Chalk this up as one Spark Media Solutions' coolest assignments. Thanks to a partnership of one of our clients, Ortsbo, a real-time chat translation tool, we're covering IndyCar racing.
I just got back from Kentucky where I was reporting alongside sports journalist Patrick Mauro the most recent IndyCar race at the Kentucky Speedway. The Kentucky Indy 300 was an exciting race with the winner, Ed Carpenter, winning by .0098 of a second! That was his first ever IndyCar win.
We already have dozens of articles including video and pictures available at the site Social Racing Grid. Please check it out. If English is not your native language and you'd like to read the site in your native language, click the "Translate" button on the top of the page and have the entire site translated.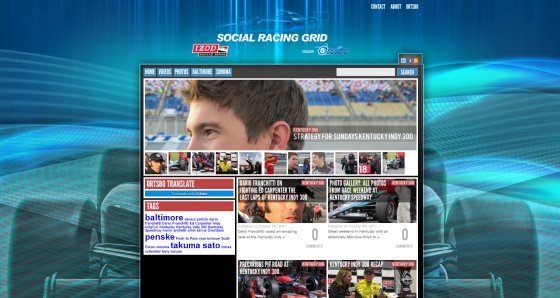 There's one more race left in the season on Sunday, October 16th in Las Vegas. This is the national championships and it will determine who is the winner for the entire season. The points leader, Dario Franchitti is 18 points ahead of Will Power who was the leader going into the Kentucky race. If you're a racing fan and eager for us to interview someone or some story, please let me know and we'll try to get the story for you.
To check out our video coverage from the event, check out the Indy Social Racing Grid YouTube channel, and all our photos can be found at the Indy Social Racing Grid Flickr channel. But I've put all 150 photos from the race weekend below for you to see.
Get the flash player here: http://www.adobe.com/flashplayer