When we're shopping, we're always attracted by sales and coupons. But they're only an attractor. Smart shoppers know that sales and discount coupons are always relative. For example, a coupon for 50 percent off a product that's been previously marked up 100 percent is not a deal.
The problem is already knowing that the product had been previously marked up 100 percent, or knowing that there's another company offering only a 10 percent discount that's actually a better deal than the one offering a 50 percent discount?
That's where Gazaro can help out. Gazaro is smarter than traditional price comparison engines like MySimon. Gazaro actually tracks the history of sales of a product, how often it goes on sale, and of course what others are selling it for. If it rarely goes on sale and this is a great price compared to competitors, Gazaro will give it a very high "deal score" (ranked 1-10). It appears that if you get an eight or above, that's considered a great deal and you should jump on it.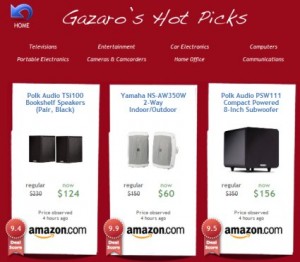 Currently, Gazaro only works for electronics. You simply tell the application what categories of products you're interested in, and Gazaro will let you know what's hot right now. If you don't want to buy now, Gazaro will continue to track categories of products or  specific products for you and send you alerts pretty much anywhere you want (e.g. Twitter, email, RSS).
For more information, ReadWriteWeb has a more detailed write up, along with some other companies that presented at DEMO this year.
This news item is for the Spark Minute week of 3/9/09 which can be heard daily on Green 960 and 910 KNEW in San Francisco, CA.