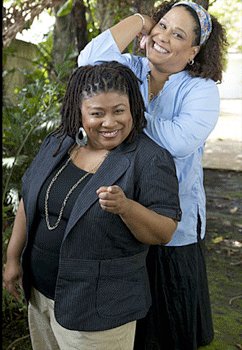 I had lunch with Frances Callier and Angela Shelton yesterday. They're also known as Frangela, and they're a comedy duo that has a weekly radio show. I've known Frances Callier for years as she was my improv coach when I was training at and writing for Second City in Chicago.
Frances and Angela had just been eliminated/quit NBC's "reality" show, "I'm a Celebrity…Get Me Out of Here" (Here's their bio page on the show site). They're scheduled to go back to Costa Rica to film the last few days of the show, which will air live. (UPDATE: According to their Twitter update, Frangela will NOT be going back to Costa Rica for the finale.) My wife and I had lunch with Frangela in Los Angeles, and the two of them told us all the horror stories of the production crew.
Watch "I'm a Celebrity…Get Me Out of Here" and it looks as if all the celebrities are sitting around doing a lot of nothing. That's far from the case. The production crew constantly had the celebrities working their tails off: hiking, washing clothes, emptying latrine, gathering firewood, purifying water, making food from scratch, and more. But you never actually see any of that. While they truly were in the jungles of Costa Rica, all the hot lights on them makes it look like a sound stage.
Plus, the producers didn't seem to truly care about the health of the people on camera. People would be getting hurt on camera, for example Lou Diamond Phillips got bitten by a rat, and the enormous production crew just stood there and stared instead of rushing to his aid or at bare minimum calling someone who could help. In addition, the producers simply forgot to give any of the celebrities bug spray for the first few days and everyone got horribly bitten up. I saw the bites all over Angela's legs and arms.
Watch my eight minute video interview with Frangela as they dish the dirt on the show "I'm a Celebrity…Get Me Out of Here."