This article is a companion piece to an article I wrote for Mashable entitled, "10 Creative Contests Powered By Social Media." Please make sure you read that article too.
Looking to run a contest, but you're worried nobody will participate? Or worse, that something could go wrong? Lucky for you, you've just won the advice of five contest production specialists: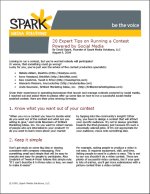 Given their experience in operating businesses that launch and manage contests powered by social media, I reached out and asked them to please offer up some tips on how to run a successful social media-enabled contest. Here are their prize winning formulas:
Read the first 8 tips below, and then get the full article for FREE. Full article includes 12 more expert tips, plus 3 legal risks to avoid when running a contest.
To get your FREE copy of the article, just register with Spark Media Solutions and we'll send you the 6-page PDF article. If you plan on running a contest online and you want to grow your social network, it's a must read.
Enter your email address and name and we'll send a confirmation email and then a link to the full article for free. Below are the first eight tips.
1. Know what you want out of your contest
"When you run a contest you have to decide what do you want out of the contest and what are you willing to give," said Linda Neumann of Brilliant Marketing Ideas, Inc. Do you want to collect names of people who are interested in your product? Or do you want to learn more about your market by tapping into the community's insight? Either way, you have to design a contest that will attract your specific audience. Try not to always gravitate towards the iPod giveaway just because it's such a universally adored prize. If it's not appropriate for your audience, move onto something else.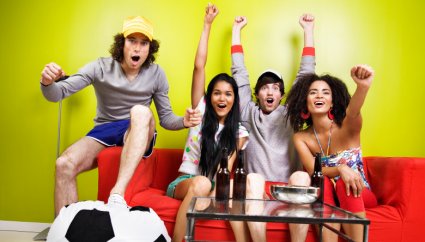 2. Keep it simple
Don't get stuck on some big idea or staying consistent with company messaging. Find something small and simple that will be easy to execute and easy for people to participate. Alex Linebrink of Tweet-A-Prize! follows this simple rule: "If I can't describe it in three rules or less, we need to make it easier."
For example, asking people to produce a video is not easy. It requires equipment, skill, and time. Asking people to send in a photo is easy. This is not to say you shouldn't do a video contest. There are plenty of successful video contests, but if your goal is lots of entries, you'll get more submissions with a picture contest than a video contest.
3. Make it fun
It should be fun to participate and watch.
4. Locate your audience
Before you launch a social media campaign, know where your audience is. Don't immediately think Facebook and Twitter. It's very possible your audience is on a special listserv or Yahoo! Group. If they are, then make sure you approach them there.
5. Your audience will surprise you
Expect the unexpected. In fact, you should want that. If you could predict everything that would happen, then you wouldn't learn from your audience. A contest is a great market learning experience. Be a sponge and be ready to adapt when (not if) necessary.
6. The prize must generate interest
"You need to look at the prize that you are giving away and say 'Would I want that?' 'Would I spend a few minutes a day entering to win that?' If the answer is no, then your contest probably won't do too well," explains Giancarlo Massaro of AnyLuckyDay. From Massaro's experience, electronic prizes do better than all other types of prizes.
The prize doesn't necessarily need to be physical or a service. It could also be a public honor or something that doesn't have an easy price stamp, but offers a lot of cache to the winner. For example, on NPR's "Wait, Wait, Don't Tell Me" the prize is the voice of radio announcer Carl Kasell on your home answering machine.
7. Let people participate on their schedule, not yours
If you're not constantly offering contests, don't require people to show up at a certain time to participate. Linebrink of Tweet-A-Prize! discovered that simply changing a contest's rules from "Come back at 9PM to answer the prize question" to "Answer this prize question anytime before 9PM" resulted in a three-fold increase in participation.
8. If you build it, they won't necessarily come
This is a common tenet regarding the Web, but it's especially true with contests. Just posting a contest doesn't cause people to flock. You need to spread the word as much as possible through all relevant social media outlets. Most commonly used social media contest bullhorns are Twitter and Facebook.
Wait…Aren't there 20 tips?
Yes they are. You can get the full article for FREE now which includes 12 more expert tips, PLUS three legal risks to avoid.
Register with Spark Media Solutions to get the FREE 6-page PDF article with all 20 tips and bonus legal risks to avoid.
Enter your email address and name and we'll send a confirmation email and then a link to the full article for free.
Creative Commons photo credit to photine.