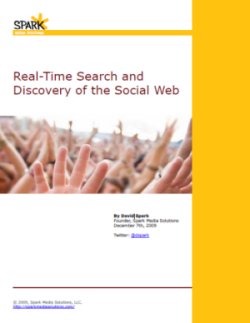 Call it good or bad timing, but I just happen to finish a report on real-time search on the day that Google announced its roll-out of its integrated real-time search results within its general search results. While I had to do some last minute edits, the report is done and I'm making it available to everyone for free.
Simply register to receive the 20-page report, "Real-Time Search and Discovery of the Social Web."
UPDATE (August 28th, 2010): Google now has its own full-blown real-time search engine. They have a detailed article about it here. This report explains the background as to why Google had to make this decision, and the competitors they still have to face.
You'll get the report for free plus you'll be subscribed to the Spark Media Solutions newsletter that's packed with abridged media goodies twice every month. You can unsubscribe at any time.
I'm giving the report away for free. All I ask in return is some feedback. Positive, negative, but whatever it is, please make it constructive. I'm eagerly learning as much as I can about this subject. This is an area that I think is going to grow like crazy, and we're only looking at a thumbnail's worth of what is yet to come.
Here are some highlights from the report.
Real-time search could steal away as much as $40 billion from traditional search. Google and Microsoft's announcement to incorporate real-time search results is a good first step to prevent losses.
The definition of real-time search is far more varied than the definition of traditional search. You'll see more variations in what is considered a real-time search engine.
All real-time search engines are far from equal. The major reason is they don't index the same content.
Real-time search engines that only index Twitter are missing up to 90 percent of the real-time web.
One exciting new aspect of real-time search is the creation of real-time programming that will be complimentary and competitive with traditional programming (e.g. TV, radio, print, and online).
Enjoy and let me know what you think. David
December 10th, 2009 CORRECTION: The article mentioned that real-time search engine Wowd required a plugin for its use. That is not true. Current report is updated to reflect that it's not required.
Photo credit: Creative Commons Bikoy.