In general, I find the way people approach meeting notes to be a giant failure. Here's why:
Attendees take notes and don't share them with their colleagues.
Notes are often written on paper and never make it to a digital form to be searched and shared.
In some cases, paper notes do make it to digital form, but that requires the wasted and unnecessary effort of recopying the notes.
Sometimes notetakers email the notes, thus requiring each recipient to save the notes on their own system. Essentially repeating a task that could be done once for everyone.
Notes are often not produced and shared in a format that can be searched among any employee, especially after employees leave an organization.
Meeting notes are redundant. If ten people are in the room taking notes, they're all doing the same activity.
Meeting notes are rarely shared.
Meeting notes are never appended to or discussed after the fact.
People take meeting notes often just to look busy.
Taking notes and never sharing them is the worst problem (Read: 10 Ways Meetings Suck and How to Fix Them). Meeting notes can be more valuable for your organization if you extend the effort to make them collaborative and live on for the entire organization, especially after employees leave your organization.
Here are four solutions for collaborating with meeting notes. Three of the tools offer real-time collaboration.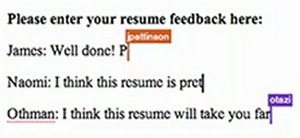 Google Docs – Collaborate in real-time with your colleagues: One of the fairly new features within Google Docs is the ability to take notes with your colleagues synchronized in real time. This was part of the promise of Google Wave which failed miserably. As you're typing in the document, you can see each other person typing along with you.
ADVANTAGES:
No redundant notetaking

– If you see another colleague writing something down that you were going to write down, now you don't have to do it.

Catch everything

– Often we miss things as we're taking notes. Don't worry, your colleague will pick up the slack.

Different perspectives

– Your viewpoint may be different than another colleague's viewpoint. Now you get to see each individual's perspectives in real time.

Follow up information

– People will often reference something in a meeting. Users can look up the reference in real time and publish it to the document with the source link.

Meeting notes are done immediately

– When the meeting is over, the notes are immediately available and searchable for all.
DISADVANTAGES:
Everyone has to be invited to the document

– You have to plan ahead and extend email invitations to all the people who will be collaborating on the document.

Have to organize the document in a file structure

– Information would be structured more logically and seamlessly searchable and discoverable if it were published in a wiki.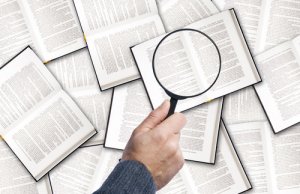 Wikis – Searchable history for all of your meetings: There are tons of wiki applications out there. I won't begin to list the wiki providers, but a wiki is great tool for asymmetrical collaboration and searching through past meetings. It's often good to combine the use of a real time document tool with a wiki, such as those shown above. Simply have your meeting in real time and then copy and paste it into the wiki for archiving and simpler navigation and searching.
ADVANTAGES:
Can create a logical structure for archiving

– Makes more sense than just shoving files in folders.

Easy to navigate through content

– Create links within content to take you to other documents.

Archive valuable information as employees come and go

– The data lives and grows with your company and doesn't leave as your employees leave.

Designed to be a living document that is constantly edited

– Although online documents aren't static either, the purpose of a wiki is to be a living document so people treat it as such.
DISADVANTAGES:
Can't actually see collaboration in real time

– Although content can be saved in real time.

There's a learning curve

– Takes a while to feel comfortable with the architecture of building and contributing to a wiki.
Zoho Chat – Chat in real-time around a document: If you want to keep a main document pristine, but you do want a free form discussion around the document, then Zoho Chat is a good solution. There are tons of chat applications out there, but Zoho Chat integrates conversation with the view of your document, and the discussion is automatically saved as an adjunct to the document.
(DISCLOSURE: Zoho is a client of Spark Media Solutions).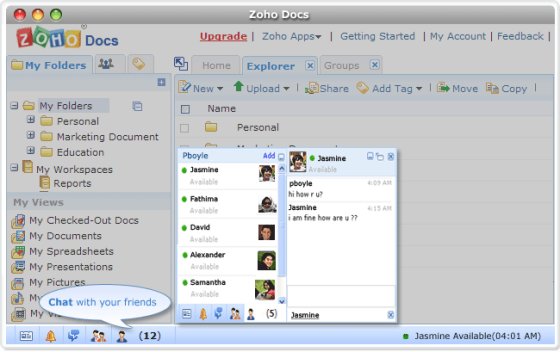 ADVANTAGES:
Write in an unstructured free form environment

– If you're writing a document there's a need to constantly be editing and being reserved with your words. With chat you can just type and type.

Create meta content for your document

– The chat log is the support and back story of the creation or commentary on the document.

Real time document collaboration is not for all

– Some people just can't handle formally collaborating on a document and chat is the most comfortable way for them to get their ideas out.
DISADVANTAGES:
Chat is a mishmash of valuable and non-valuable data

– You can't read through this like a normal document. You'll need to scan and search through chat logs.

It's not in a format you'll want to publish

– When it's done, it's not going to look pretty to anyone but you and your group.
Typewith.me – Update 2016: Typewith.me is no longer operational.  Take advantage of the wisdom of the crowd in real time: If you don't actually know all the people that you want to collaborate with, you can utilize this service to publicly publish a link to an open document, thus allowing anybody to collaborate. All input is synchronized in real time just like with Google Docs.

ADVANTAGES:
One click to launch a collaborative document – Fastest way to start collaborating.
No need to register to participate – You just need the link to participate. Although you can type your name to identify yourself as you're writing.
Publish the link and anyone can participate – Great way to get anyone to join in on a collaborative document. Appropriate for conferences and open meetings.
DISADVANTAGES:
No archiving – Need to export or copy/paste to another location, ideally a wiki.
Contributors can be anonymous – Since registration is not necessary, people often can contribute without identifying themselves.
Stock photos courtesy of Shutterstock.