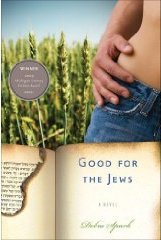 My sister, Debra Spark, is an award winning novelist and her third novel, "Good for the Jews," is coming out in October, but already has received its first stellar review from Booklist. Here it is.
Good for the Jews.
Spark, Debra (Author)
Oct 2009. 264 p. Univ. of Michigan, hardcover, $24.00. (9780472117116).
Spark is at her sly, funny, and cutting best in her third novel, a clever and affecting variation on the biblical story of Esther. The setting is Madison, Wisconsin, a liberal heartland stronghold not without its dark side. Mose Sheinbaum loves his work as an American history teacher at a high school for struggling students, and the students love him. A real mensch, he raised his young cousins Ellen and her sister after their parents perished in a car crash and after he lost his wife. Ellen has become a rare and splendid creature, a beautiful, 25-year-old virgin, but Mose is being targeted by the new principal. Is it because he's Jewish? Who is sending him hate mail? Can Ellen help, now that she's engaged to the superintendent of schools? With agile dialogue, escalating weirdness and menace, and tricky questions of lust, love, fear, stereotyping, and hate underlying each hilarious, caustic, and unnerving scene, Spark's canny novel of outsiders and insiders unveils many hard truths about the enigmas of the self and others in relationships both private and public.


– Donna Seaman
If you can't wait for October, read my sister's first novel, "Coconuts for the Saint." It's fantastic.
I should note that a second review has also come out, and that's from our mom. She loved it. I've got an early copy of the book and I'm starting it tonight. When I'm done, I'll let you know my unbiased review as well. ;)