This interview is part of my series "Making Money from Podcasting" (read summary "9 Successful Techniques for Making Money from Podcasting") where I interview podcasters who are actually generating revenue from their podcasts. There are many techniques, and here's one person's tale of how his company is making money from podcasting.
Integrating sponsorship with the show's editorial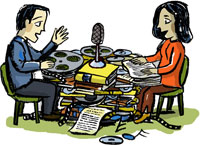 Andy Bowers is the producer of the endless lineup of podcasts and videos available on Slate. One of their most popular podcast formats are the "gabfests" which are just a group of smart journalists talking about the hottest stories that week in politics, sports, and pop culture. I became quite a fan of the Culture Gabfest, a group discussion of that week's arts and entertainment from low pop to high culture.
One of the sponsors of the show is Audible, a digital audio book retailer that sponsors many podcasts. What's different about Audible's sponsorship of Culture Gabfest is that the show hosts and producers have successfully integrated the sponsor's product into the content of the show in a very natural and appropriate way. As Bowers pointed out, the show's hosts were consumers of Audible's digital "books on tape" and were excited to have them as a sponsor, and therefore eager to recommend books to read. It all fit in perfectly with the show's editorial.
Interview (Time: 9:45)

Audio clip: Adobe Flash Player (version 9 or above) is required to play this audio clip. Download the latest version here. You also need to have JavaScript enabled in your browser.

While an in-show sponsorship read always begins with the sponsor's offer, Slate's Culture Gabfest is able deliver even more relevancy with their own Audible book recommendations and also audience recommendations, which come in droves, said Bowers. Plus, they're able to play snippets from the books, adding even more pertinent show content.
In the past, Slate's had advertisers such as car companies run pre-roll ads. The sponsor had very little to do with the content of their show. They were just after the show's total audience and demographics. There was no natural way to integrate the sponsor with the show's content, therefore making it difficult to create any level of engagement.
With the Audible sponsorship, users get a free audio book if they sign up on Audible with a specific promotional code. The code measures the engagement of specifically Culture Gabfest's audience. Other shows have their own promotional code. During a few episodes the hosts announced an internal contest to see which Slate podcast could get the most people to sign up for the Audible membership with that specific show's promo code. With that contest announcement, listeners got even more engaged. Audible memberships jumped. Listeners and show hosts really got into the friendly rivalry as evidenced by their increasingly active Facebook fan sites. Bowers is very impressed with how engaged their audiences are. A similar Slate audience rivalry happened when they were trying to get people to join the shows' respective Facebook fan sites.
Slate doesn't get any kickback for each listener that signs up with Audible, but they do prove that their audience is engaged – a far more important statistic to advertisers than your entire listening audience. As Slate continues to prove their audience's engagement, they continue to get sponsorship.
Listen to my interview with Bowers as we chat about building the relationship with Audible and seeking out other sponsors to integrate with their programming.
More episodes of "Making Money from Podcasting"