Is it possible to teach a technology that will be outdated by next year? Computing science educators deal with this issue every year. But now that technology bleeds into every aspect of our lives and business, so teaching anything that has a technology connection may be outdated within a year.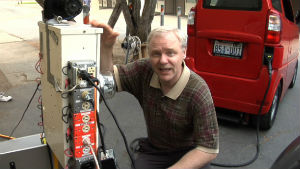 This is especially a challenge for Richard Hart (@NextStepTV) who co-founder of the multimedia department at the Academy of Art University in San Francisco. The nascent program, only three years old, is educating our future multimedia journalists in traditional and custom/corporate media. Hart is probably the best to teach this curriculum since he's been a staple in Bay Area television and tech broadcasting. He was the co-host of Evening Magazine in San Francisco, but also he was the host of a variety of technology shows, such as The Next Step on The Discovery Channel, and various programs on CNET TV.
On this week's episode of The Tear Down Show, we spoke to Hart about how he's training many of tomorrow's broadcasters, or really netcasters across all media.
Tear Down Show comes out once a week. Why not subscribe to the show on iTunes and listen to us every week?

In the first half of the show, Michael and David discuss:
Amazon creating a lot of resentment in the book world
YouTube Creator Series – Informing YouTube producers on what they're working on next. Like Google Labs, but for YouTube.
Michael's XBOX360 died, and he just bought another one.
Watch one of the worst 80s sitcoms, "We Got it Made." Lots of episodes available on YouTube. Go find some of your favorites.
Email us at teardownshow@gmail.com
Leave a message on the Tear Down Show line 206-350-6206
Connect with David Spark on Twitter at @dspark. His business is Spark Media Solutions.
Connect with Michael Wolf on Twitter at @michaelwolf. His business is NextMarket Insights.
Please send us your feedback. We want to hear from you and put your input in our show.