I'm an empty inboxer.
I'm obsessed with getting rid of clutter. I like to keep my inbox clean for the same reason I've gone paperless and physical medialess (I just digitized my entire VHS home movie and audio tape collection). It was this "unnecessary physical junk" realization that directed me to simplify my digital life as well.
I'm six weeks into this project of unsubscribing from newsletters and mailing lists, and here's what I've learned.
Unsubscribing from all these mailing lists is a commitment
For the first week, I spent about 10-15 minutes a day unsubscribing. Six weeks later it's reduced dramatically, but I still spend about 5-10 minutes a day unsubcribing from mailing lists.
I didn't ask to be on these mailing lists
I know how one gets put on a mailing list, and there are plenty I'm on for which I have not given my permission. I have consciously subscribed to about half a dozen mailing lists. I've unsubscribed from hundreds already.
Press have it bad, real bad
Press people get put on distribution lists from PR firms. Most of those lists don't have "unsubscribe" buttons so you have to hit the reply button and enter "unsubscribe." Most firms are professional when they get that response. They don't respond and just unsubscribe you. Some don't. They keep sending messages and you have no choice but to report them as spammers,
Then there are some that get offended that you want to unsubscribe. Today, I got this annoyed response from my "unsubscribe" reply.
"I'm not a machine. I simply thought it could have been of interest for you."
The email was addressed: "To whom it may concern."
I want to, but I don't unsubscribe from friends' and clients' email lists
There are a few friends who have newsletters that I feel an "unsubscribe" would come off as insulting. I don't want their newsletters, yet I don't unsubscribe for fear of how my friends would feel if I did unsubscribe. Conversely, I just delete the newsletters as they're delivered. Unless they proactively check to see if I open their newsletter, our friendship is maintained.
Newsletters that promote "one-click unsubscribe" are actually offering "two-click unsubscribe"
Do not advertise your newsletter as having "one-click unsubscribe" if I have to click a second time to unsubscribe. Mailchimp truly has a one-click unsubscribe button. Click it once in the newsletter and then you're unsubscribed.

Stop, you can't make the "unsubscribe" button any smaller
Part of the problem of unsubscribing is trying to find the "unsubscribe" link. Most newsletters obscure its location, put it in 3 pt. font, and color it a very light gray.
When I hit "unsubscribe" don't make the default "I don't want to unsubscribe"
This is infuriating. While difficult, I did purposefully hit that microscopic almost impossible to find text link you put at the end of your newsletter. Trust me, it was not an accident. If I'm forced to a confirmation page, the default setting should be I want to opt out.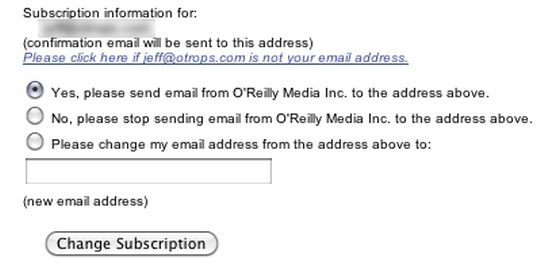 Make your unsubscribe option say "unsubscribe"
Some newsletters obscure the unsubscribe process even more by not labeling the button "unsubscribe." For example, some newsletters say, "If you prefer not to receive any more email communications from us, click here."
Some newsletters are so long their emails get truncated
This I find bizarre. Who is writing a newsletter that is so long that you have to open a web page to read all of it and then find the unsubscribe button? Shorten your darn newsletters so I don't have to launch a web browser to find your "unsubscribe" button.
I'd like to unsubscribe, not "update my email preferences"
Every business has this bizarre fantasy that their readers are truly spending time thinking about what kinds of emails they do and don't want to receive. They either want to hear from you, or not. In some cases you may have multiple newsletters and it's fine to have an option to "update email preferences" but that should not be to the sacrifice of the "unsubscribe" button.
Waiting 10 days to be pulled off a mailing list is BS
If everything online can be done in real time, why do I have to wait 10 days to get off your mailing list? I had this issue with unsubscribing from Hilton. If they can book a reservation in real time, why can't they take me off their mailing list in real time? I don't buy the argument that I have to wait 10 days. Take me off immediately. When I unsubscribe that means no more from that moment on.
Don't make me log into my account to update my email preferences
UGGHHHHHH!!!! NOOOOOOO!!!!!
The follow up email is not necessary
Web page confirmation is enough.
Don't tell me to enter my address
Irritatingly, some unsubscribe processes require you to enter the address you want unsubscribed. That's information the sender already has. If you sent me an email, then you know the address I want removed from your mailing list. By asking me to enter my address it requires me to go back to the email to figure out which address you sent it to. I had one service asked me to enter the address in twice.

What??!!! A CAPTCHA to unsubscribe?
I've never seen this before, but a friend of mine Josh Weinberg of Digital Life Group sent me this unsubscribe CAPTCHA.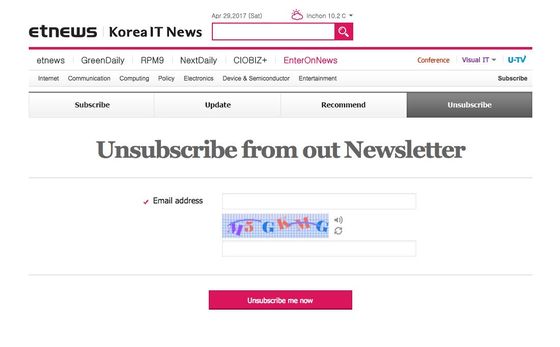 In my mind that this wasn't intentional, but rather just a case of sloppy coding. Developers probably just had a CAPTCHA automatically attached to every single form. Doesn't speak well to the brand.
It doesn't seem like a big deal until you do it HUNDREDS of times
People who send out newsletters are often myopic. They only see their needs. A poor unsubscribe process can actually be a brand damaging experience. You want to make the customer experience positive even when they don't want your product. One irritating unsubscribe experience is not an annoyance. Hundreds of them are.
Why would you want someone to be on your mailing list that doesn't want to be on?
I have a mailing list. I think it's pretty awesome. I've received great compliments about it. But if you don't want to be on the mailing list, please unsubscribe. I promise I won't be insulted. It actually costs me money to have more people on it that don't want to be on it. It also speaks poorly on my brand if every time I hit your inbox it's seen as an annoyance.
I don't know if this is going to ever end
I may be living on a Mobius strip of unsubscribing. Every point I think I'm done I start all over again. The first week was the most intense process of unsubscribing, but six weeks later I still find myself unsubscribing from at least 10 mailing lists and PR lists every day.
Even though it appears to be never ending, this process has been worth it as my inbox has far fewer emails and I'm less distracted by what comes in to my inbox. If you haven't started already, do it, and let me know what you're experience is like.
Creative Commons photo attribution to Yandle, Massimo Paolini, Jeff Van Campen (2)