Do you like to be personally insulted?
Do you like to have the validity of your business practices questioned?
If this describes you, then you must start your own mailing list. It's the only form of broadcast communications I know of where people have no problem attacking you for what they believe to be an uninvited invasion of their personal space, the sanctity of their email address. I wrote about a similar case of this behavior, that was instigated by a simple mistake, in the article Social media "gurus" and bloggers are egotistical jerks.
While receiving "How dare you put me on this mailing list" emails is not a common occurrence, I and others have suffered the fate of receiving such anger-induced messages that attack our character, health, and the way we do business. In the following cases, all had followed proper email list building procedures. We only added people for which we had developed a business or personal relationship, exchanged business cards, or that person opted into a mailing list form on our websites. On our marketing emails themselves, all of us had easily visible UNSUBSCRIBE buttons that would have removed the person from the mailing list as quick as this:
– CLICK –
It takes just a moment to press -CLICK-, but hitting REPLY and responding with a wave of vitriol takes much longer. And here are some tales of people who took that special time.
Hidden sadistic behavior triggered by an e-newsletter
Andra Watkins, a consultant for POSITUS Consulting, received a scathing response from a former temp staffer who used the receipt of Watkins e-newsletter as an excuse to insult Watkins and question her intelligence. Although Watkins was suspect of the former temp, she had thought their working relationship had ended amicably.
"Veiled lack of respect in personal interactions often masks total lack of respect in cyberspace," said Watkins, "Where a person can feel like they can 'say anything' without dealing with the hurtful consequences of their words, even though those words can be forwarded around forever."
Being online is all about communications and relationships, but not with you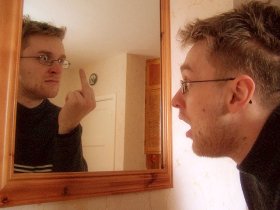 For my work I meet and interview a lot of people. I take copious notes about all my relationships and I exchange a lot of business cards. One person who I interviewed for a video piece responded with outrage after receiving one of my newsletters and demanded that I unsubscribe him. He could have just clicked the unsubscribe button himself, but I did it for him. I also reminded him that we had met at a conference two weeks ago where I had interviewed him on camera. Just one week prior to the email newsletter I sent him a personal follow up email with a link to the finished video. He was not impressed. He viewed all my attempted contacts with him as spam and that I hadn't properly asked about ongoing communications with him.
Flash forward a year later, I'm sitting at a conference and this guy is now on a panel talking about his new company that builds fan pages and Facebook engagement with companies. He was going on and on about how important it is to foster personal relationships with people online. The irony was obvious and sure I wanted to say something publicly, but I didn't. I simply took note and will never recommend his company. Forget engaging on Facebook, this guy didn't know how to handle simple polite discourse.
I'll get you and I'll track you down or maybe I won't
Like in my previously mentioned posts about social media "gurus" and bloggers being egotistical jerks, certain micro celebrities like to throw their micro weight around. By taking down a single individual with a targeted attack it makes them feel a lot better. So why shouldn't they do it?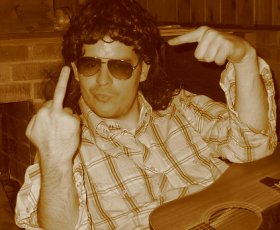 Such was what happened to Lisa Jey Davis, PR Principal of Jey Associates. She sent a targeted story pitch to an appropriate group of media professionals. Some responded positively, some ignored the message, and one responded, "Shame on you for this shameless plug for an egotistical client." He then threatened to "block her, and track her through all of their online systems." What exactly that meant, who knows. It was a lot of hot air as Davis never experienced any repercussions.
Similarly, Erin Deighan had a list for local musicians and was threatened by one who demanded, "Take me off this list! I did not give you permission to write to me. Stop spamming me or I will sue you." No lawsuit. In the end it was easier just to unsubscribe, and it doesn't require the services of an attorney.
I don't think you realize that I'm bat sh*t crazy
Colleen Lloyd-Roberts didn't realize what she was getting into when a man who received one of her marketing emails called angrily to complain about a link in the email not working for he and his wife who also received the e-newsletter. The broken link angered him so much that he said he was reporting Roberts to a particular web service and having her website shut down the next day. Even though the link was working fine Roberts offered to unsubscribe the man and his wife manually if he would just tell her the email addresses. He refused. So she said they could unsubscribe next month when they receive next month's email.
The following month the threats continued via a protected email address. He spewed off a series of random laws and regulations and said a lawsuit was imminent. Roberts' husband tracked the guy down on Facebook and discovered the guy had a gun permit with special shooting privileges. The situation had now officially become scary. So Roberts goes to the sheriff to get a restraining order on him. Turns out the guy owned a construction company and had come to Roberts' house to provide an estimate and gave her his wife's card.
Why do some people respond to e-mail marketing with such anger?
I believe there are two different situations happening here.
First, people will often project a past negative experience upon the next person. It's kind of like when a boyfriend or girlfriend projects their previous relationship's baggage on you. You just happen to be the next companion and your mate didn't get the opportunity to vent on the last one. So you have to suffer now and take the bullet.
My second rationalization for this type of behavior is that some people are just a-holes.
Want to join my mailing list and not attack me?
I invite you to sign up for the Spark Notes* e-newsletter. Twice a month you get a short newsletter packed with valuable media goodies. Take a look at the latest newsletter. If you're interested, please just fill out the form below, and you're welcome respond, compliment, disagree, or unsubscribe at any time. If you do unsubscribe, please just click the link and leave it at that. The insulting commentary won't be necessary.
Creative Commons photo credits to Toby Bradbury, Neil Abbott, and Gregg O'Connell