This is a repost of a report I published for Intertainment Media on their blog, the Ingaged Blog.
I just got back from SXSW and one of the comments that was mentioned over and over again is how many amazing serendipitous moments one can have at the conference (see "Your 'No BS' Guide to Surviving SXSW"). At SXSW in particular, achieving these great moments of serendipity require you to let your schedule go and allow for the moments to happen.
At the show, I talked about this with Lance Ulanoff, Editor-in-Chief of Mashable and Gary Vaynerchuk, author of "The Thank You Economy" (see my video interviews, reporting for Dice at SXSW, below) and we joked about how it was often impossible to make forward progress of even 50 feet because we just keep running into people we know. Gary Vaynerchuk boiled it down when he said, "When you get this many smart and innovative people in one small tight space, serendipity is inevitable."
For me, these "moments" with people I know and those I just meet for the first time are what make SXSW such a memorable conference. It got me to thinking, could this kind of serendipity translate anywhere else? Is there a way to fabricate it, or maybe facilitate serendipity in any other environment?
It got me thinking about all the ways we can coax serendipity:
Location based apps at conferences
Facilitating friend connections wherever you are has been the promise of applications such as Foursquare, Facebook Places, and now new entrants Highlight and Banjo. In normal everyday life, I find these applications to be a nuisance and also a personal safety issue. But in large industry-specific conferences they're incredibly valuable because a good portion of your online social world is now physically all in one city. Where in that city you don't know, but with a location based app you can find out when you actually care. At SXSW and at CES I've used these apps to find what parties my friends are currently attending. That information most often dictates where I'm going next.
Closed campus-like environments
Let me qualify that last comment that these location apps are only valuable at a larger conference where there are thousands of attendees are sprawled across in multiple locations in a city. In a small conference where everyone is physically in just a few rooms, there's no point to these services, but at events like SXSW and CES where events can happen in hundreds of different locations, they're very valuable. Location-based apps are also valuable at universities, military bases, and large corporate campuses.
Reaching out to industry luminaries via social networks
If you want to bump into people you know at conferences you need to know a lot of people. The only way to do that is to network. That means pressing flesh at events, but it also requires engaging with people in your industry via social networks. In particular, comment on industry bloggers' blogs and engage with them on Twitter. Your previous online discussion will give you a point of context when you meet them at a conference.
The old adage about networking is very true. You need to network when you don't need it. Too often people go into panic "I need to network" mode when they're looking for a job. Don't fall into that trap. Always be networking. It's always valuable no matter what your situation.
Social sign on for event registration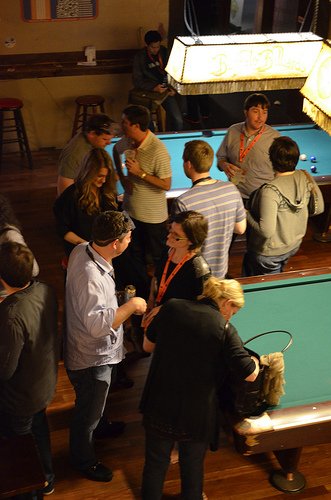 Many event scheduling services such as Eventbrite and Meetup allow for some type of social sign on which allows you to not only see a list of people registered for an event, but in some cases click through to view and read their profile. If you spend just a little time looking at the attendees you'll pre-know the people you're going to meet in person for the first time. You'll have a point of context to engage and it will impress the person that you made the effort to learn about them, making your meeting all that more memorable for them.
Search Facebook and LinkedIn for people in a particular city
Whenever I travel I simply search my Facebook and LinkedIn networks to see who lives in the city I'll be visiting. I could do the traditional "are you available for lunch" email to particular people but that becomes a coordination nightmare if you're trying to make it one-on-one. Instead, I simply open up an invitation, saying, "I'm coming to your city, meet me for lunch/drinks at this location. Let me know if you can make it" and then show up. Some people will RSVP. Some won't. Some who said they will come, won't come. And those who do come will probably bring a friend.
Post a public "meet me in this city" event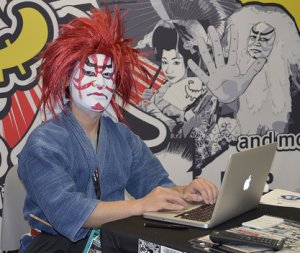 Similar to the above tip, I have also posted public events "Drinks with Dave" on Facebook and surprisingly have had people I don't even know join just because it was a chance to meet some new people.
Talk a lot about an event you're about to attend on Twitter
I'm always pleasantly surprised when I meet someone at a conference that follows me on Twitter. If you talk a lot about a conference you're about to attend, then your followers who will also be at that conference will look out for you.
What's your advice for orchestrating serendipity?
While many of my tips aren't truly "serendipity," they do play into the ability to facilitate that face-to-face engagement with people you know and don't know. I'm always looking for new ways to connect with people in person, so if you've got any suggestions, please add them to the comments.
Creative Commons photo attribution to Dice.com and Shelbysdrummond.