This article was originally a report published for Intertainment Media's Ingaged Blog, makers and distributors of the KNCTR and Ortsbo.
Hackathons are definitely the rage. Where else can a product, and sometimes an actual business be created in just 24-48 hours? A bunch of successful online services and products have been born out of hackathons. GroupMe started out as a hackathon project at the 2010 TechCrunch Disrupt NYC and was acquired by Skype for $85 million in 2011.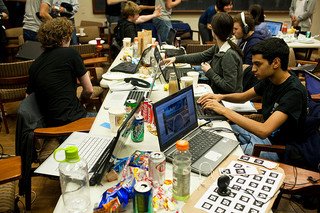 Some of Facebook's most popular services such as Photos, the "Like" button, and Video have been a result of internal hackathons. In fact, Facebook's hackathons have become so popular for their business and the employees that they've become a regular part of the company development and workflow. They're currently being produced four times every year. Employees so love hackathon development and culture at Facebook, that they participate in the weekend hackathons voluntarily, for no additional pay.
Hackathons are not just for developers. I've seen business planners and designers work alongside developers in hackathons. Plus, there are hackathons for all other kinds of business and business development, such as management, creativity, and film production.
To understand how you and your business can take advantage of hackathon-style culture, we have to first look at what makes hackathons so popular.
Hackathons are unlike a traditional work environment in that participating in a hackathon gives you a chance to:
Participate in a creative cultural moment – Not everyone has a creative job, or if you do, you may only be able to be creative in a box. Hackathons give you a chance to be freely creative and be around the energy of others being creative.
Not be hampered by the structure of the needs and wants of the organization – Most projects are bogged down by project management, people's time, and client demands.
Work with eager, self-motivated, like-minded, new, and usually smart participants – Those people who are participating chose to out on their volition. A hackathon is a challenge of your skill and knowledge so participants are also usually talented and bright.
Operate under a short time limit – This project isn't going to go on forever. We all know it's going to end at a specific time.
Operate in a pressure-induced, yet friendly, environment – You have the time pressure to get a project done, but it's pressure to succeed in a game. It's not intrinsically tied to your job and therefore there's no career-level stress.
Leave real work behind – Facebook's hackathon requirement is that you have to do something that's not related to your job.
Work intensely for a short period of time, but with a known ending – We all work hard, but much of what makes hard work exhausting is because it keeps going on and on with no specific end in sight. This is a case where you will work hard, but clearly know that there is an end, and it will happen soon.
Produce something or not – When the time limit is over you're going to have something, although many people don't make it to the end. Of the hackathons I've seen, only about half of the participants that enter actually make it to the end and have something to present.
Participate in positive-only career development – So many possible career-changing events can happen if you participate in a hackathon: You could create something that could make you great money. Your talent could be seen from others eager to hire you. You could meet and work with people who you may work with in the future.
Be recognized by your peers and the industry – Hackathons are a great way to show off your talent, and it's a great way to discover great talent.
Win something – Amazingly this is towards the end of the list as it's not really the motivator that gets people involved, yet you could win a few bucks.
A chance to continue the project – You can't help be strongly attached to or repelled by working with someone for 24 hours in a row. At the end of the project you're going to be eager to continue to work on the project (or something else) together, or you might never want to talk to them again.
Hackathon tips from a hackathon addict
Zac Bowling has participated in more than 80 hackathons and was recently profiled in Wired Magazine. At SXSW this year, I interviewed Bowling on what it takes to succeed in a hackathon.
Can you apply hackathon principles to your business and career?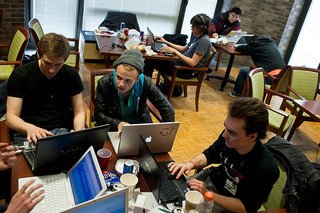 On a day-to-day basis, I don't think it's possible to maintain hackathon principles and behavior in your business and career. So much of the success of a hackathon is that it's a departure from normal business procedures, plus it's an extremely intense period of work, often with little to no sleep. Maintaining a hackathon's frenetic pace on an ongoing basis is not possible in a standard work environment. Hackathons are and will continue to be seen as a special event which requires a certain amount of down time before and after.
You as an individual or a company can create "hackathon moments" to regularly juice you to participate similar to what Facebook does, or you can seek out or participate in hackathons. If neither option is available to you, given your location or your profession, then you need to produce a hackathon yourself.
The answer is yes you can apply it, but make it a special event and organize it correctly. How do you organize it and make it successful? Listen to my interview with Peter Morano, organizer of the hackathon at last year's SocialDevCamp in Chicago. He gives the lowdown on the physical and promotional elements necessary to pull off a hackathon.
Creative Commons photo credit to hackNY.