Interview with Tim Schmoyer (Time 28 min) of Videocreators on how to use YouTube annotations effectively and how to build your audience through YouTube.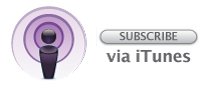 Tim Schmoyer (@timschmoyer) is the founder of Video Creators, which gives tons of advice on creating YouTube videos and developing audience, a Creative Strategist for Epipheo storytelling company. They make videos and animated videos. He is also the host of ReelSEO's Creator's Tip.
Schmoyer joined us for a conversation about how to use YouTube annotations and build your audience on YouTube. Here's some of his advice:
How to Effectively Use YouTube Annotations
Build interaction in your videos: Since you're publishing to YouTube, a social network in itself, you want your audience to actually engage with your video. Annotations increase their ability to engage and direct them to actually participate through comments, video reviews, subscribing to your channel, and leading them to even more videos. Here's a beginner's tutorial on annotations from Schmoyer.
Effectiveness of annotations: How useful annotations are for you is up to how you use them and measure how well they're working for you. YouTube now offers analytics on annotations. If you actually look at those analytics, and refine your usage of annotations, it will improve audience engagement.
Link to other videos: Schmoyer and many other video producers create a closing slate on their videos which shows animated thumbnails of some of their other videos. This slate must be made in the post production of your video. You annotate this portion of your video by creating invisible boxes or "spotlights" around the video thumbnails you want your viewers to click on. Below is an example of one of Schmoyer's slates, and check out his video on how to create an outro slate in your video.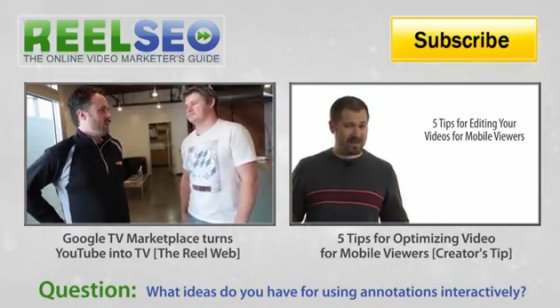 Direct your viewers to the "Subscribe" button: Many viewers don't realize they can subscribe to your video and they wouldn't know where to click if they could. Drive them directly to subscribe from within your video. As you're shooting the video, make a mention in your shoot that you would like viewers to subscribe. You could actually point to a location, like over your shoulder, where that imaginary button will be (make sure you leave enough room in the frame) and in post production actually put a "Subscribe" button and then annotate it in YouTube so when they click on it they're taken to your YouTube page where they can subscribe.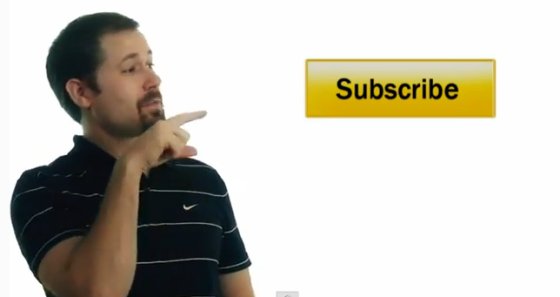 Combine Subscribe button with video thumbnails: If you include the "Subscribe" button on that closing slide with the animated thumbnails of other videos, even if they don't watch another video right then and there, they'll see that you do create lots more content and that it would be worth it to subscribe to see what other videos you'll produce. According to YouTube, a subscriber is four times more likely to watch your video than a non subscriber. Assuming you're creating a lot of videos on a regular basis, you want more subscribers.
Will drive a little traffic, not a lot: Traditionally, annotations to watch other videos only drive about 0.25 to 0.75 percent clicks. If you have really engaging content, that clickthrough rate can increase dramatically, as is the case with his employer Epipheo. They claim a 6 percent clickthrough rate on their annotation links to other videos. Even if you are at a low level and produce a lot of videos, those video views will add up.
Annotations don't work on mobile: According to YouTube, one in four videos is watched on a mobile device. Problem is because annotations use Flash they don't work on mobile devices. As of yet, YouTube hasn't made any announcements on whether annotations will ever work on mobile. Also one in four views is on a screen larger than 30 inches (your TV where annotations usually don't work either) meaning that desktop viewing of videos is decreasing dramatically.
Hide a secret video within your video: You could place a small invisible annotation for just a few frames anywhere in your video and then tell your audience that there's an invisible annotation that will link them to a secret unlisted video. Schmoyer has done this a bunch of times, including an invisible annotation for just a few frames that links to a secret video, and he's amazed at how many comments he gets. That video could also have information on entering a contest. He's seen some other video producers put up an annotation for just a single frame. It isn't completely impossible as you can see the outline of the box of the "invisible" annotation. If you do this regularly your audience will begin to expect it and your retention score will increase dramatically.
Annotations may improve SEO: While not confirmed by YouTube, it appears that the text in annotations helps improve search visibility of your videos.
Send traffic to your website: If you have a verified domain on YouTube, you can link out of YouTube with an annotation. But the downside of that is driving traffic outside of YouTube will lower your search ranking. Keeping people on YouTube, engaging, and watching your videos is what improves your visibility on YouTube. Use this sparingly.
How to Build Your Audience on YouTube
Content supersedes professionalism: Don't spend as much time on professionalism as you should just on the content itself. The content is far more important in driving views over the slickness of production quality.
Be yourself in a YouTube video: People on TV work hard to be someone they're not. Online, you're expected to be exactly who you are. Authenticity is something you have to seriously take into consideration. Create videos for the web, not television.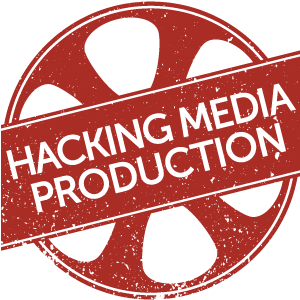 Craft content to spark conversation: As you're producing your content, ask yourself what can I create that will cause debate. The video should be a launching point for people to start leaving comments and engaging with you and building community. One way to do this is to ask questions and talk to the camera as if you're expecting someone to talk back to you is one way to go about doing this. Schmoyer's advice for any video producer is to listen before you shout, meaning you'll get a lot more respect from your audience if you can prove that you're hearing what they're saying.
Video responses are valuable for search and content: Video responses really help improve your search visibility. But it's also great for beefing up your content and showing that you're engaging with your audience. If you invite video responses you can feed that back into your content, plus people who see that you're actually using their responses as content are more likely to leave even more video responses.
Collaborate with other YouTubers: Like rappers doing cameos on other rappers songs, find YouTubers in your same niche through a channel swap or just interviewing each other. You'll be able to take advantage of each others' audiences.
Run a Google+ Hangouts on Air: These regular live video conversations always drives more YouTube subscribers for Schmoyer. The liveness of the event he thinks has a lot to do with it.
Be active in the YouTube community: Just do good old fashioned networking online and off, but also interview other videobloggers at live events such as VidCon and Playlist Live.
Think actively about search: What search terms would people use to find your video? That needs to be in your title. First few lines of the conversational description hold a lot of weight as does the metadata. Write the metadata out in a list from most important (specific) to least important (general) keywords.
Write a title for your subscribers first, and then one for everyone else: Schmoyer will think about what would entice his subscribers first. So the first version of his video will have a title such as "Do this" that his subscribers will see first. The enticing title drives a lot of traffic from his subscribers. After that plays for a week, he'll go back and change the title and make it more search engine friendly.
Content and production is only half of the job: Like the conversation I had with Jim Louderback of Revision3 on building your audience around content, Schmoyer also stresses the importance of engaging with your audience after the content is produced. He goes out of his way to respond to every single comment that's made.
Connect with "Hacking Media Production"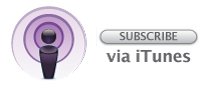 Thanks for supporting the show. Please subscribe to "Hacking Media Production" on iTunes, write a review, check out past episodes, and if you have any friends that make content for a living, please tell them to listen to the "Hacking Media Production" podcast. Thanks.

Creative Commons photo attribution to Exit Festival.