Every year, I receive a flood of printed and electronic holiday greeting cards from business associates, friends' families, dentists, and insurance agents. All are mass-produced and have a generic message wishing me a happy holiday and New Year.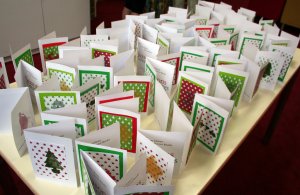 The thought that goes into sending mass-mailed holiday cards follows this pattern:
Make the decision to send out holiday cards.
Figure out who should receive a card this year.
Assemble the database. Make sure to get updated address (email or snail mail) information.
If printed cards, determine a design and order enough cards.
Figure out how to print addresses on envelopes or labels on your new printer.
If the card is electronic, make sure to first let everyone know you're saving a tree by choosing an e-card this year. Feel free to label it as a "green" holiday card.
Send them out. You're done.
In this entire process, there's not a single step where we think about the recipients, nor do we think about the personal messages we want to attach to our holiday cards. If we're sending out mass-produced cards, what response can we expect from our recipients?
You've received these types of holiday cards. Do you ever respond? Do you even remember who has sent them to you? Does a holiday card change or reinforce your opinion of them? Have you fooled yourself into believing that generic holiday cards mailed to everyone in your contact database are an obligation that people are expecting from you?
I'm not referring to all holiday greetings. I'm referring to the ones that have a generic holiday picture on the front and then simply say, "Happy Holiday from everyone at __________." Photos of families sent out are fine as it's an actual photo and you get to see the family growing up year to year. Then again, you would never send out a photo of your family from your business, or would you?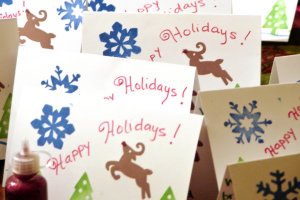 Mass-mailed generic holiday greetings are such a non-intimate process that the recipient has no other way to accept them but with at most a meager thanks, or maybe they'll put it above their fireplace with other greeting cards, purely as decoration. That's the best you can hope for. Chances are they'll open the card and drop it into the garbage in less than a second. If it's electronic, the delete key will be hit immediately as well.
These are people for whom we appear to have a personal relationship, yet we're sending them junk mail. Is that the sentiment we want to pass along to new clients, colleagues, contractors, friends, and partners at the conclusion of the year?
This is not a Scrooge-esque way of looking at holiday greetings. It's a realistic way we respond to a mass-produced sentiment, which is emotionless at best, annoyed at worst. You can't expect a sentiment in return if you're not delivering one.
Unless it's an e-card, the process of sending out holiday greeting cards takes an enormous amount of effort. Yet that effort fails to make any real connection because the sentiment is so generic.
"You all mean so much to me. Thank you for being a part of our lives."
"Thanks for making our business so successful in 2013."
None of that is true. It's not physically possible for everyone to mean that much to you. Certain people are close friends and mean a lot to you. Some you never spoke to in the past year. A few clients were responsible for a huge chunk of your business and others don't return your phone calls.
Personalize your holiday greetings. It's worth the effort.
The reality is if you want others to care about you, you need to care about them first. That's why you cannot send a mass-produced greeting card and expect any kind of response.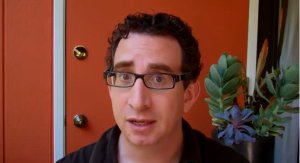 Six years ago I worked on an effort for which I send hundreds of personalized video greetings. The majority of them were sent through Facebook's video messaging service. For those contacts who weren't on Facebook, I sent a video greeting through Tokbox, which no longer offers the same free video messaging. Today, I recommend trying out Eyejot.
The response was overwhelmingly positive. Here's just a sampling:
"Nice to hear from you. What an awesome means of communication. Unbelievably personal. Dig it."
"too funny – and customized just for me – how sweet."
"I am honored by the personalized video message."
"Easily the most original and thoughtful "card" I've received this year. Thanks for that."
"Wow – the most personalized holiday greeting EVER!!"
There were tons more extraordinarily positive responses. Read them in this article, "I just sent 325 personal video holiday greetings-The Response."
I also spelled out the process of creating them in this article, I just sent 325 personal video holiday greetings-How I did it,"  plus followed up the process next year with a more refined process where I was able to send out even more video greetings. Read I just sent 555 personalized video holiday greeting cards – How I did it.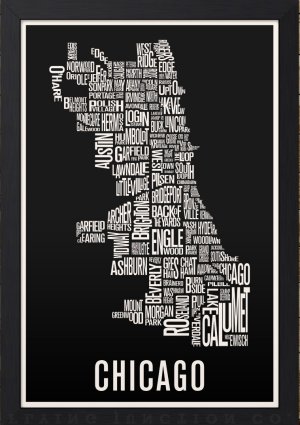 Last year, we chose to send our personalized gifts to our new clients. We sent them these cool artistic posters showing the neighborhoods of their respective cities. Most of the artists were very accommodating in this gifting process. Some offered to sign the posters and others added personal messages.
We received an overwhelmingly positive response, with each client thanking us and telling us they were going to hang the poster up in their office. It was a strategic move on our part. The poster acted as a friendly reminder of our business permanently in their office since we were the ones that sent it to them. This is different than sending chocolates or wine which is consumed and then immediately forgotten.
What personalized holiday greeting or gifts have you sent?
Personalized video greetings and hip city posters are just two examples of personalized greetings/gifts that were very successful for us. If you're already spending the time and money on mass-mailed greetings and not getting any response, why not stop that and focus on the people that really mean something to you? Send them a personalized greeting and/or gift. Wouldn't that mean a lot more to you and them?
I'm not the only one who has sent personalized holiday greetings and gifts, so please let me and the rest of the readers know what personalized holiday greetings or gifts you have sent that were warmly received.
Creative Commons photo attribution to lindsay.dee.bunny, Mosman Library, and popofatticus. Chicago map by FlyingJunction on Etsy.