When I mentioned to my wife and business partner Joy that I wanted to write an article arguing that sometimes it's OK to yell at customer service, her first reaction was, "Please don't."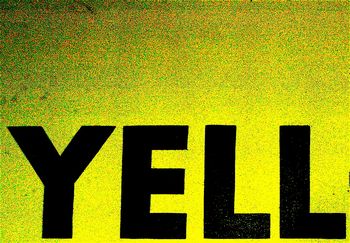 The image of me  telling off some customer service rep would be a negative reflection of me and our brand.
Yes, true. But my hope is after reading this you won't have a negative opinion of me and my brand.
I'm writing the post to ask if yelling as customer service can be validated. What about the times when you're very patient with customer service and it flat out fails? Is it appropriate at this time to start yelling? Will it provide a solution or will it make a bad situation worse?
Is it the customer's job to fix a company's customer service problem?
In the following two stories, I either quickly or eventually discover there's a deep organizational problem that goes far beyond my simple customer service issue. My polite behavior couldn't fix it. I also don't believe it's a customer's problem to fix.
Story 1: No procedure to handle gift returns
My friend Bill Biggar (mentioned in the article "12 Awesome People Who Should Be on a List But Aren't") bought me a copy of the movie "Defending Your Life" on DVD. What arrived in the mail was the first season of the TV show "Martin."
{ 0 comments }