In February, I wrote an article Tricks We Use to Produce Content Quickly. Looking back, I realized that there were a lot more tips I should have included, so I've rewritten that article with tons of bonus material. Here goes…
Events are a beehive of potential content. If you want to capture and produce it, be ready to be exhausted. There is always more content you want to collect that's beyond what's physically possible. Depending on the event and the demands of the client, you may also need to publish as the event is happening. Over the nine plus years Spark Media Solutions has been creating event-based content we've learned a few things about how to speed up the production process. While you could adopt the advice for general production, these tips are specific to any event-based scenario where you have extremely limited time and the speed of capturing, producing, and publishing are all critical.
Typical content capturing and production involves countless little steps. These tips are about streamlining your process. Shaving off any time, even by just a few seconds, is crucial when needing to produce a lot of quality content before your deadline.
1: Prepare your production process. Seriously, do it.
Everyone knows they should prepare for production, but very few people really spend the necessary time to do it. Start by mapping out your entire production process before you even begin. Once it's visualized, assign a name to every single task. Can any of the tasks be combined or removed? Does everyone who has their name assigned to a task know their tasks? Do they know when they'll be doing it or who will be sending them materials so that they can complete their task?
2: Take two of everything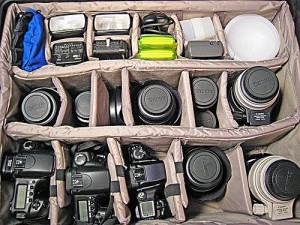 In the field, the unexpected always happens. If you don't have two of every single piece of equipment you're going to be very sorry. The simplest failure can shut down production. For example, I've broken a tiny little plastic piece that holds my light to my camera. If I didn't have a backup, that $7 item could have ruined production.
{ 0 comments }